Whenever I don't know what to make, I come back to this recipe. This cake is filled with rhubarb, high in protein (thanks to almonds), and low in sugar. 
This cake is vegan, but can be made gluten-free as well. It's the perfect all-year-round-cake: Instead of rhubarb, you can also use apples, plums, or pears! The rhubarb (or any fruit you choose to make it with) blend perfectly with the almond-based dough and the crumbles on top. 
Vegan Rhubarb-Almond Cake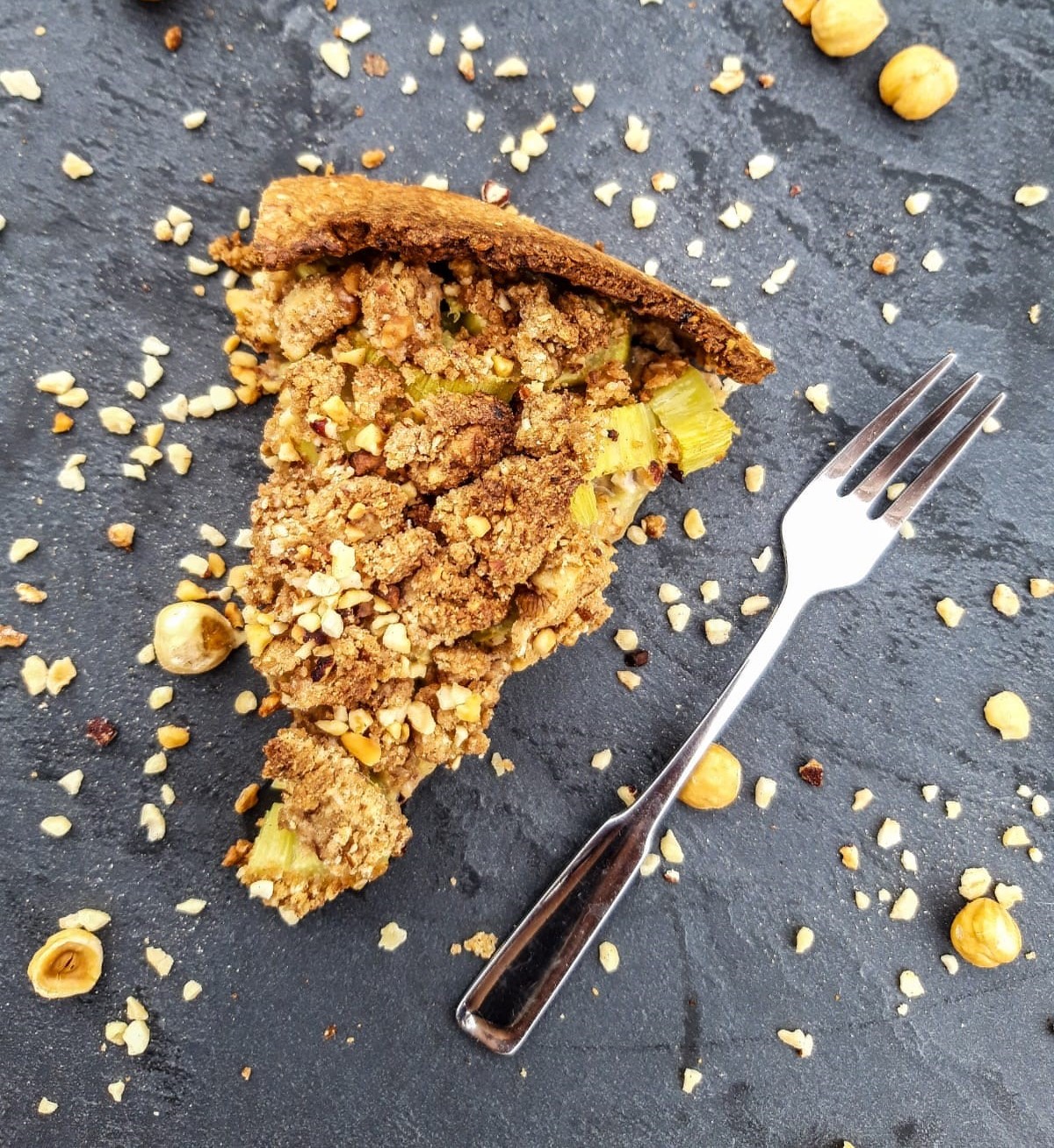 Total Time
1 hour
5 minutes
Ingredients
250g Wholegrain Flour
100g Ground Almonds (or Almond Flour)
125g Vegan Butter
35g Raw Cane Sugar
30ml Soy Milk
800g Rhubarb (peeled)
For the crumbles:
150g Wholegrain Flour
85g Vegan Butter
40g Raw Cane Sugar
40g Ground Almonds
40g Walnuts
20g Chopped Hazelnuts
1 Tsp Cinnamon
Instructions
In a bowl, mix all ingredients for the base.
Roll the dough on parchment paper and transfer into a springform pan. The edges of the base should be about 3cm/1in high.
Put the springform into the fridge and let it sit while you cut the peeled rhubarb into pieces of about 1cm/ ½ inch.
Preheat oven to 180°C/356°F.
In another bowl, mix all the ingredients for the crumbles.
Transfer the rhubarb into the springform pan, then spread the crumbles on top.
Bake for about 45min.
Notes
This recipe contains about 75g of sugar in total, but feel free to add some more if you like. I barely eat any sweets at all, so I'm used to a very low amount of sugar.
If you don't like rhubarb, simply replace it with other fruit! I love making it with prunes in summer, or with apples in winter. Just use what's in season!