100K at 16 Years Old: Lucy Bartholomew's Journey Into Ultra-Running
While most 16-year-olds were doing what most teenagers do—partying, drinking, trying new things—Australian Lucy Bartholomew ran her first 100k. What started with running alongside her dad and supporting him at races, had turned into a passion of her own. And while the passion stayed, the hobby soon turned into a profession.
Now, at 24, Bartholomew is still considered a "young gun" in the sport of ultra-running, although she has already run more ultramarathons than her age.
For Bartholomew, the journey into the world of ultra-running began when her dad, a marathoner, decided to run even longer distances of 50K and more. Between work, school and training, there was little time left to share a good conversation. By sharing their runs, there was suddenly a way to spend more time with each other. "We would just run until we had nothing else to say to each other, we got hungry and then we would turn around."
When her dad lined up for his first 100K race, 14-year-old Lucy Bartholomew was watching him run from the sidelines. At least, that's what she was supposed to do. Instead, she would do what she "had learned to do, which was just running", following the course and catching up to her dad. She wouldn't cross the finish line as a race participant this day, but it was the day she discovered her passion for ultra-running.
"I saw the front of the pack looking amazing on the trail. I saw the middle of the pack working towards a goal and achieving something incredible. And then I saw the back of the pack of people that were running with a cake in one hand and a coke in the other hand," Bartholomew said. "I was like this is incredible. I can jog and I can eat a lot."
She was going to be 16 soon, so she emailed all the ultramarathon events she could find, asking to let her race. However, signing up for an ultramarathon at 16 years old, Bartholomew had to run against strong headwind. After doing a lot of persuasion, only one event would let her race under certain conditions: she must run alongside her dad, write a nutrition plan and get medical checks. But still, she was experiencing a lot of backlash when people started saying ultra-running would leave her injured or mentally cracked up or stunt in growth. Some would say her dad was a bad parent for letting her run an ultramarathon.
"I'm super stubborn and when I want to do something, I'll do it," Bartholomew said. So she raced her first official 100K race and finished in twelve and a half hours, smiling her way through it because there were people who wanted to see her pull out of the race. But she proved them wrong. And a year later, when she was allowed to run on her own, she finished in nine hours—three and a half hours faster.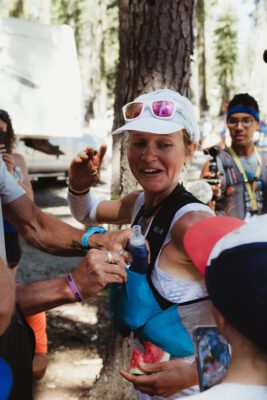 "They invented a whole new category for me, the under-20s," said Bartholomew. Although she was officially allowed to race as she got older, she still had to prove her commitment to the sport of ultra-running in a rebellious way. So she signed up for a 250K stage race through the Simpson Desert in Australia. When she broke the news to her dad at the finish line of another ultramarathon, a row of fights and discussions followed. And they ended in complete silence the day Bartholomew showed her dad her tickets to Queensland.
"I think he saw 250 kilometers as a lot. He was just being a dad," Bartholomew said. But even without the support of her dad, she followed through with her plan. She started working at an Australian bakery franchise, where she would pull the bread out of the oven in the morning, put them in the shelves, then go to school and come back in the evening to sell the remaining bread. She saved up all her money and traveled to Queensland, where she would run through the Simpson desert for four days. "I ended up coming in second overall in the race and I finished it and I went back home. I washed my clothes and I went to school the next day."
But it wasn't until Bartholomew was featured on the Runner's World Magazine front cover that the icy atmosphere at home vanished. "He didn't even know how I had done because he wasn't interested. But when he saw how happy I was that I was surrounded by such amazing people who were looking up to me, he realized that I will go to the races and I'll make it work. And he can either support me or I'll just do it without his support."
The last year of high school flew by quickly and Bartholomew decided to take a gap year to travel and run around the world. Eventually, her dad would join her to run the Ultra Trail du Mont Blanc (UTMB) and the Matterhorn Ultramarathon in Europe. At the end of her gap year, she knew that running was something she wanted to continue professionally. "The things I learned is more than I learned in school, just from traveling and meeting people."
Sponsors started noticing Bartholomew and while her hobby slowly turned into her job, her gap year turned into two gap years, then three, four. Instead of going to university, Bartholomew competed in numerous ultramarathons overseas, including the UTMB in France and the Western States 100Miler in the United States. But for her, ultra-running was exactly what she wanted to do. "Finding running helped me find myself," she said. "In this trail-running world, you're celebrate for being a little kooky and a little different."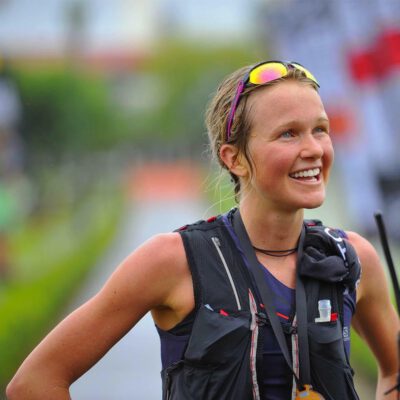 And even now, as an established professional ultra-runner, running is not only a job to Lucy Bartholomew. It is also a way to learn about life and herself. The greatest lesson running has taught her, is to focus on the things you can control and let go of the things you can't control. "In life and in running, we tend to want to control everything," she said. "But when you go into an ultra, you know a lot of things can happen. You know your stomach hurts, your ankle hurts. It's more about what you can control but then also releasing the things you can't."
The recent COVID-19 outbreak put her mindset to the test, when Australia went into complete lockdown not only once, but twice. As the time one could spend outside was limited to one hour a day, there was suddenly a lot of time for things outside of running. She discovered that "Lucy, the runner" was not the only Lucy inside her. "I am Lucy who loves cooking, Lucy who loves reading, and I feel like it's been a really cool thing to just expand on who I am."
Although COVID-19 made planning impossible, Bartholomew looks at 2021 as a replication of what this year was supposed to be. "2021 is just a rerun of 2020. I feel like I've just been gifted 365 more days of training", she said. She plans to run both the Western States 100Miler and the Ultra Trail du Mont Blanc—the two most prestigious races in the ultramarathon world. But she will also make a quick side-trip to the world of long-distance triathlon with an Ironman at the end of next year. During the lockdown, it has been a challenge to get in running or cycling workouts, but it has been nearly impossible to go for a swim. "I haven't been swimming, but the pool is open today, so I booked in for tomorrow. I'm so excited I might wear my goggles to bed."
Looking further ahead, Bartholomew wants to organize running camps. Next to working on a vegan cookbook, she has offered camps in Australia and South Africa so far. "I love bringing people together that share the passion of running or the passion of plant-based foods. I want to show people that it's OK to just chill out for a weekend and to have a conversation where you look someone in the eye and fully listen to them. I think the art of conversation is getting lost these days."
For the time after the pandemic, Bartholomew has some more running camps in America and Europe in mind to share her passion for running, food and good conversations.