"It Takes Failures to Learn": Elite Runner Meg Lewis-Schneider's Journey Through Four Bone Injuries
Click here to read in English/Hier geht es zur deutschen Version
"There's no other sport that I've been involved in where I just love it so much. I love being in nature, I love feeling empowered and inspired," said Meg Lewis-Schneider. For the 26-year-old freelance journalist from Canada, the sport is running.
"When I was a kid, I couldn't decide on one sport because I loved them all." It was only after she finished her degree in Radio and Television that she picked up running—just for fun. But when she started entering races, it quickly became more than just a hobby. "I was so committed to my training and I started to see improvements in every race I did. I was completely hooked."
While she ran one personal record after another, Meg experienced massive success in running right from the start, running some fast elite standard times. In 2018, Meg finished third at the Victoria Half Marathon on Vancouver Island, Canada, in one hour and fifteen minutes—just three years after her half marathon debut.
But she didn't know that this success would be short-lived. "So often, when we get good at something, we start to think: OK, what else can I do to make myself better?" Meg said. She started mixing up her workout routine with strength training and yoga, and decided to change up her diet. It seemed to be the key to keep improving.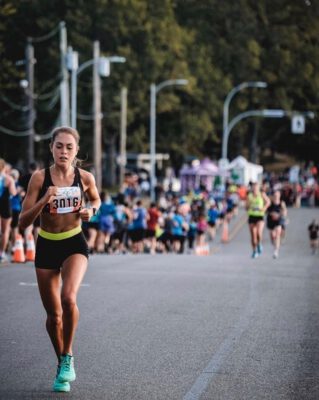 Then she got sidelined by a navicular stress fracture. "I had no idea what caused it and I just thought it's a result of hard training and pushing my limits. I didn't take it too seriously. I thought I would just let it heal and then I'd get back to running and do the same thing that I was doing."
But the bone injuries kept coming. First the navicular stress fracture, then the fifth metatarsal and sacral, topped with a stress reaction in the femoral neck. After her third stress fracture at the beginning of this year, she began looking for reasons and started seeing a dietitian and a sports doctor.
That's when she realized that the stress fractures were just the top of the iceberg. Down below, there was a row of connected issues: relative energy deficiency, low bone mineral density and amenorrhea, which is the medical term for the loss of the menstrual cycle. All of these combined to form the female athlete triad. The disorder often goes by unrecognized because the symptoms are subtle and can be mistaken as a side effect of hard training.
When Meg changed up her diet and went vegan, she also found that her nutrition intake was not matching her output, which got her into a relative energy deficiency in sport, also called RED-S. "I was riding a fine line because the more running or the more cardio you do, the more you lose your appetite," Meg said.
While her personal bests for the 10K and half marathon kept dropping, her weight did too. Her teammates noticed that she lost weight and looked too skinny, but she didn't take their opinions seriously. "I thought I looked this way because I'm training more and I'm faster."
But the damage doesn't show until later on, when the low bone density leads to stress fractures and even osteoporosis. "I dug my own hole when I could have been avoiding all those signs and warnings," Meg said.
One of these warnings can be amenorrhea, which is one of the key symptoms of the female athlete triad. Amenorrhea can have many causes ranging from stress to overtraining to undereating, which ultimately result in low estrogen levels and a missing period. But for Meg, this warning sign remained undetected.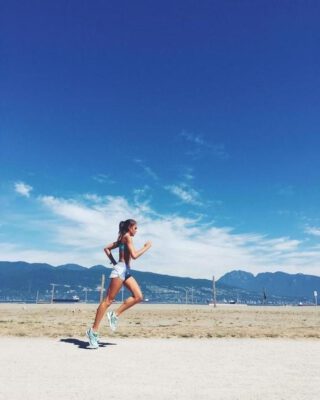 "I was in RED-S and I didn't know because I was also on birth control. And when you're on birth control, it masks the problem because you're still getting [your] period. But I didn't know that it was actually fake," Meg said.
Birth control pills are a common treatment for amenorrhea because they bring back the period. But compared to the natural hormonal system of the body, birth control pills are not as efficient in maintaining the bone mineral density. The hormone estrogen is a crucial regulator for the bone metabolism in both women and men. And when low estrogen levels remain undetected because they are hidden behind an "artificial" menstrual cycle due to birth control pills, it can have devastating impacts on the bone mineral density.
"You don't notice the consequences because it takes a while for the damage to kick in," Meg said. The third symptom of the female athlete triad, a low bone mineral density, develops over several years. And once it is detected, it is already too late to turn around and make the necessary changes in diet and training. "It's not going to take four months. It's not going to take a year or two to reverse the damage."
Meg learned that the hard way, when she transitioned back into training after her sacral stress fracture. "By July I got my period back and I was off birth control. I thought I'm healthy and I'm going to get back to running the way I used to run."
She started running that same month, only to find herself knocked down by another bone injury a month later. After building up her bone density for six months, the diagnosis was both shocking and unexpected at first. But even though stress fractures are devastating to anyone who loves running, Meg also sees this row of injuries as a chance.
Being injured during a global pandemic pushed her into finding other passions and hobbies. "Through my other injuries, I would try to go to the pool and biking, but I'm being kinder to myself these days. I don't need to cross-train like the machine to feel good," she said.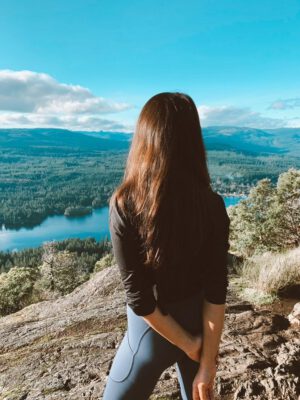 Instead, she discovered that baking helps to keep her positive, as well as spending more time with friends. Meg loves an upbeat music playlist that helps the mood and she also tried gratitude journaling. "Even when we're struggling, there's still so much to be thankful for," she said. Along with walks in nature, it's inspiring books and podcasts that get her through both the pandemic and the injury.
"Sometimes it takes all these setbacks or failures to really learn. I know this is all part of the process," Meg said. "The biggest lesson for me is that I have to take things much slower and be way more patient and compassionate for myself."
To run healthy, it takes more than a regular training schedule. It also takes good nutrition, enough rest and the ability to listen to the body. On her blog, she writes: "I have gained way more from my setbacks than I have from any victory. I may have made too many mistakes and suffered far too many injuries, but I am not discouraged."
One of Meg's biggest goals for the future is to get up from sitting on the sidelines and get out running on the roads again. "I have so much fire inside me and once my bone health is restored and I'm fully healthy, I want to get back to running and prove that I can be much better than the former version of myself."
Meg Lewis-Schneider über RED-S und Female Athlete Triad
"Es gibt keinen anderen Sport, den ich so sehr liebe. Ich mag es, in der Natur zu sein und mich inspiriert zu fühlen," sagt Meg Lewis-Schneider. Für die 26-jährige freiberufliche Journalistin aus Kanada ist dieser Sport Laufen.
"Als Kind konnte ich mich nicht für eine Sportart entscheiden, weil ich sie alle mochte." Erst nachdem Meg ihr Studium im Bereich Rundfunkjournalismus abschloss, fing sie mit dem Laufen an – nur zum Spaß. Aber als sie begann, auch an Wettkämpfen teilzunehmen, wurde das Laufen schnell mehr als nur ein Hobby.
"Ich habe so hart trainiert und konnte mich bei jedem Wettkampf verbessern. Ich war völlig begeistert." Meg war von Anfang an extrem erfolgreich, lief eine Bestzeit nach der anderen, darunter auch einige schnelle Elite-Normzeiten. Im Jahr 2018 lief sie beim Victoria-Halbmarathon auf der Vancouver Island in Kanada ihre Bestzeit von 1:15h – nur drei Jahre nach ihrem Halbmarathon-Debüt.
"So oft, wenn wir in etwas richtig gut werden, dann fangen wir an zu denken: OK, was kann ich noch tun, um mich zu verbessern?", sagt Meg. Daher begann sie, ihre Trainingsroutine mit Krafttraining und Yoga aufzufrischen, und beschloss, ihre Ernährung umzustellen.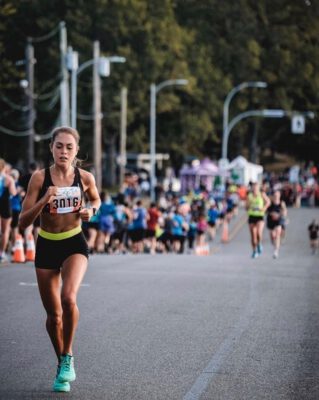 Doch dann bekam sie eine Stressfraktur im Kahnbein des Fußes, wodurch sie zu einer Trainingspause gezwungen wurde. "Ich hatte keine Ahnung, was die Ursache für die Fraktur war, und ich dachte einfach, das harte Training und ständige Ausreizen der körperlichen Grenzen wären der Auslöser. Deshalb habe ich den Ermüdungsbruch nicht allzu ernst genommen. Ich dachte, wenn ich es einfach heilen lasse und dann wieder mit dem Laufen beginne, kann ich genau so weiter machen, wie ich es tat."
Aber die Kahnbein-Stressfraktur blieb nicht die einzige. Wenige Zeit später reihten sich auch Frakturen im fünften Mittelfußknochen, Kreuzbein und Schenkelhals dazu. Nach ihrer dritten Stressfraktur am Anfang dieses Jahres fing sie an, nach Gründen zu suchen.
Im Gespräch mit einem Ernährungsberater und einem Sportarzt wurde ihr klar, dass die Ermüdungsbrüche nur die Spitze des Eisbergs waren. Darunter gab es eine Reihe miteinander weiterer Probleme: relatives Energiedefizit (RED-S), geringe Knochendichte und Amenorrhoe, das Ausbleiben des Menstruationszyklus. All diese Faktoren zusammen bilden das Female Athlete Triad – zu Deutsch, die Triade der sporttreibenden Frau. Die Kombination der einzelnen Symptome bleibt oft unerkannt, weil sie subtil sind und auch als Nebenwirkung von hartem Training auftreten können.
Als Meg ihre Ernährung umgestellte und beschloss, sich vegan zu ernähren, nahm sie nicht die gleiche Menge an Energie auf, die sie durch den Sport verbrauchte. Dadurch geriet sie in einen relativen Energiemangel im Sport, abgekürzt auch RED-S genannt. "Ich bewegte mich auf einem schmalen Grat. Denn je mehr man läuft oder je mehr Ausdauersport man macht, desto weniger Appetit hat man", sagt Meg.
Während ihre Bestzeiten auf die zehn und 21 Kilometer immer schneller wurden, nahm sie auch weiter Gewicht ab. Ihre Teamkollegen wiesen sie darauf hin, dass sie abgenommen hatte und zu dünn aussah, aber sie nahm ihre Meinung nicht ernst. "Ich dachte, ich sehe so aus, weil ich mehr trainiere und schneller bin."
Der Schaden, der entstehen kann, wenn das Energiedefizit im Sport bestehen bleibt, zeigt sich erst später. "Ich habe mir ein eigenes Loch gegraben, obwohl ich all diese Anzeichen und Warnungen hätte ernst nehmen können", sagt Meg. 
Wenn der Körper über längere Zeit einer Unterversorgung mit Energie oder Übertraining ausgesetzt ist, werden nicht überlebenswichtige Prozesse heruntergefahren und die Knochengesundheit negativ beeinträchtigt. Das bedeutet zum Beispiel, dass das Immunsystem geschwächt und die Ruheherzfrequenz niedrig ist. Bei Frauen kann es zum Ausbleiben der Periode kommen. Bei Meg blieb dieses Warnzeichen allerdings aus.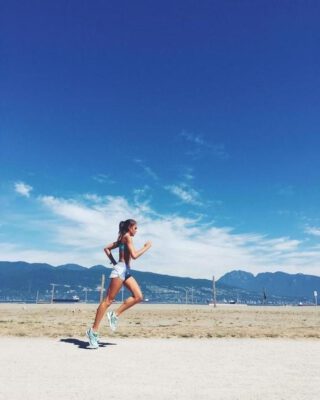 Stattdessen entdeckte Meg, dass sie gerne backt und Zeit mit Freunden verbringt, weil es ihr hilft, positiv zu bleiben. Sie liebt gute Musik und "gratitude journaling", bei dem man jeden Tag fünf Dinge aufschreibt, über die man dankbar ist. "Selbst in schwierigen Zeiten gibt es immer noch so viel, wofür wir dankbar sein können," sagt Meg. Neben Spaziergängen in der Natur sind es auch inspirierende Bücher und Podcasts, die sie sowohl durch die Pandemie, als auch durch die Verletzung bringen.
"Manchmal braucht es all diese Rückschläge oder Misserfolge, um wirklich zu lernen. All dies ist Teil des Lernprozesses," sagt Meg. "Die wichtigste Lektion für mich ist, dass ich vieles langsamer angehen muss und geduldiger und mitfühlender mit mir selbst sein muss."
Denn um gesund zu laufen, braucht es mehr als einen regelmäßigen Trainingsplan. Es braucht auch eine gute Ernährung, genügend Ruhetage und die Fähigkeit, auf den Körper zu hören. Auf ihrem Blog schreibt Meg: "Ich habe aus meinen Rückschlägen viel mehr gewonnen als aus jedem Sieg. Ich habe vielleicht zu viele Fehler gemacht und viel zu viele Verletzungen durchgemacht, aber ich lasse mich nicht entmutigen."
Eines von Megs größten Zielen für die Zukunft ist es, wieder verletzungsfrei laufen zu können. "Ich habe so viel Feuer in mir, und wenn meine Knochengesundheit wiederhergestellt ist und ich völlig gesund bin, möchte ich wieder laufen und beweisen, dass ich viel besser sein kann als die frühere Version von mir selbst."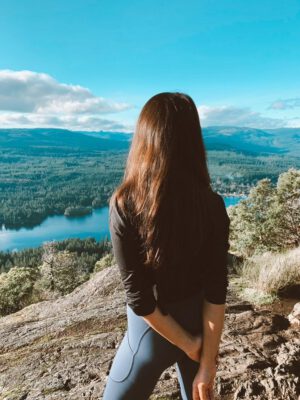 Stattdessen entdeckte Meg, dass sie gerne backt und Zeit mit Freunden verbringt, weil es ihr hilft, positiv zu bleiben. Sie liebt gute Musik und "gratitude journaling", bei dem man jeden Tag fünf Dinge aufschreibt, über die man dankbar ist. "Selbst in schwierigen Zeiten gibt es immer noch so viel, wofür wir dankbar sein können", sagt Meg. Neben Spaziergängen in der Natur sind es auch inspirierende Bücher und Podcasts, die sie sowohl durch die Pandemie, als auch durch die Verletzung bringen.
"Manchmal braucht es all diese Rückschläge oder Misserfolge, um wirklich zu lernen. All dies ist Teil des Lernprozesses", sagt Meg. "Die wichtigste Lektion für mich ist, dass ich vieles langsamer angehen muss und geduldiger und mitfühlender mit mir selbst sein muss."
Denn um gesund zu laufen, braucht es mehr als einen regelmäßigen Trainingsplan. Es braucht auch eine gute Ernährung, genügend Ruhetage und die Fähigkeit, auf den Körper zu hören. Auf ihrem Blog schreibt Meg: "Ich habe aus meinen Rückschlägen viel mehr gewonnen als aus jedem Sieg. Ich habe vielleicht zu viele Fehler gemacht und viel zu viele Verletzungen durchgemacht, aber ich lasse mich nicht entmutigen."
Eines von Megs größten Zielen für die Zukunft ist es, wieder verletzungsfrei laufen zu können. "Ich habe so viel Feuer in mir, und wenn meine Knochengesundheit wiederhergestellt ist und ich völlig gesund bin, möchte ich wieder laufen und beweisen, dass ich viel besser sein kann als die frühere Version von mir selbst."